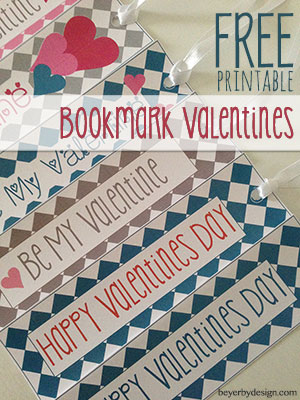 For my first blog post, Beyer by Design wants to offer up something truly wonderful for Valentines Day.  It's coming up fast and if you don't already have plans for your children, maybe these can help you out.  I decided to design my daughters Valentines this year and thought I would let everyone enjoy these bookmarks.  Of course, I stumbled upon the idea while on Pinterest (you can follow me here), and took liberties to design something really fun.  This is such a super easy way to pull together Valentines for your child's classroom.  All you have to do is print these out, cut, add a ribbon (or not) and you are DONE!  My daughter has already begun signing the back of her bookmarks in anticipation of delivering them on Valentines Day.
To download these printable bookmarks, all you have to do is head over to Facebook and "like" Beyer by Design … that's it!   Then these cute bookmarks are yours for personal use.  Once you have "liked" Beyer by Design on Facebook, you can download the PDF file and print to your hearts content.  I hope you enjoy these bookmarks as much as I enjoyed making them.  Please let me know how you used them with your children!
Please use this link to "like" Beyer by Design on Facebook and download your bookmarks.